The Chartered Institute of Digital Economy is globally the professional body representing the digital economy industry professionals based out of Singapore. CIDE membership, training and qualification in the digital economy industry. 
It is focused on digital professional in the industry and provides ongoing support and training for members.
CIDE is the largest and the first chartered digital institute in the world. CIDE has chapters in the UK, USA, Australia, Japan, Indonesia, Taiwan, Malaysia, Vietnam and Singapore.
International Digital Chamber of  Commerce
The Chartered Institut of Digital Economy was established to represent the business community in the digital era of the fourth Industrial Revolution.
Our four pillars of focus are Artificial Intelligence, Blockchain, Cybersecurity and Digital Transformation an committed to support and champion enterprises that have a presence in Asia.




Our Purpose
Connect | Education | Grow
In the modern business world, businesses must equip Itself with digital capabilities to processes, products and assets to enhance efficiency, increase customer value, manage risk and navigate through new business opportunities.
We help our members to connect, gear themselves up and achieve sustainable competitive advantages through our platform.
Connecting enterprises with policymakers and communities to harvest the Digital Economy Globally.
Championing the Digital Revolution in Globally.
Chris is a serial entrepreneur and corporate restructuring strategist. He builds Digital Partnerships Ecosystem among his investee company and teaches Digital Economy and Corporate Finance in an International EMBA programme in Asia. He also holds a fund management license and had listed 4 companies on the stock exchange in Australia and Singapore. Chris is the alumni member of University of California Berkeley, Cheong Kong Graduate Business School, European School of Management and Technology and Harvard Business School.

Roger is actively involve in the social and business community. He is currently the President of Singapore Digital Chamber of Commerce and has hold leadership and advisory roles in JCI Singapore (National President, Advisor and Ambassador and JCI Asia Pacific Development Council, and now as the President of Asia Pacific Business Council for Sustainability.
Prior to this Roger works with companies to improve their overall results, especially marketing efficiency. He co-founded a number of startups and helped to turn around loss-making companies and organisations to profit. Roger holds a Bachelor in Mass Communication from Curtin University.
Graham is currently the Honourary Secretary of Family Lawyers Association of Ireland. He is the practising lawyer at Hanlon & Co Solicitors located in Dublin city specialising in the areas of Family Law, Personal Insolvency, Commercial Contracts, Conveyancing, Probate and General Litigation. Graham was appointed to the Private Security Appeals Board in 2007 by then Minister for Justice Brian Lenihan. Having served for 4 years as a member, the current Minister for Justice, Alan Shatter, proposed him for the position of Chairman to the Cabinet. He was duly appointed by An Taoiseach Enda Kenny in 2012 as Chairman for a further 4 year term. The Board sits regularly in the Dept. of Justice to determine appeals brought by individuals and companies from decisions of the PSA.
Chiara L. Milani is a journalist, host and author of TV broadcasts and events, international trainer and speaker who, so far, led keynote speeches and courses to leaders from over 120 countries, both virtually and in person. The first Italian and so far the only European woman ever elected JCI (Junior Chamber International) President, she is currently the editor-in-chief of a multimedia magazine, anchorwoman of the daily news and host of a couple of TV broadcasts in Italy. Called as a TEDx speaker in Amman (Jordan) to spread the idea of Individual Social Responsibility, received several awards, both as a professional and for her volunteer activity, including a special recognition in 2003 as "Reporter of the Year" in Lombardy, the "Pope Boniface VIII" Peace Prize and the "JCI Top Growth" Award in 2009 as President of JCI Italy in 2009, the plaque of the Ambassador of Peace (given to her by the mayor of her hometown) and the honorary citizenship of Rio De Janeiro (Brazil) in 2013 as JCI President.
Dr Stephen T. Homer | Visiting Professor
Dr Stephen had a broad background of working experience before settling on to the academic career. His undergraduate degree was undertaken in Bournemouth University , United Kingdom as a BEng (Hons) Electronics and after some work experience, he returned to Bournemouth University to study for an MSc Management with Project Management. It was during this time, Dr Stephen became involved with various volunteering programmes which culminated with an academic visit to Malaysia. Dr Stephen, engaged with Sunway University and undertook his PhD Business within the university under full studentship and graduated in 2020.
The Chartered Institute of Digital Economy is now fully accredited by the Accreditation Committee of International Association for Quality Assurance in Higher Education (QAHE).
The International Association for Quality Assurance in Higher Education (QAHE) based in United States of America is an independent, private and international organization which is funded through fees charged for its accreditation services to Academic Institutions in various levels, Certification Bodies, E-Learning Management System Providers and Training Organizations. QAHE is an expert in recognizing higher education institutions for research performances, student services and quality of teaching to value the confidence of the public along with supporting the development of quality assurance systems worldwide.
News link – https://www.qahe.org/institute/chartered-institute-of-digital-economy/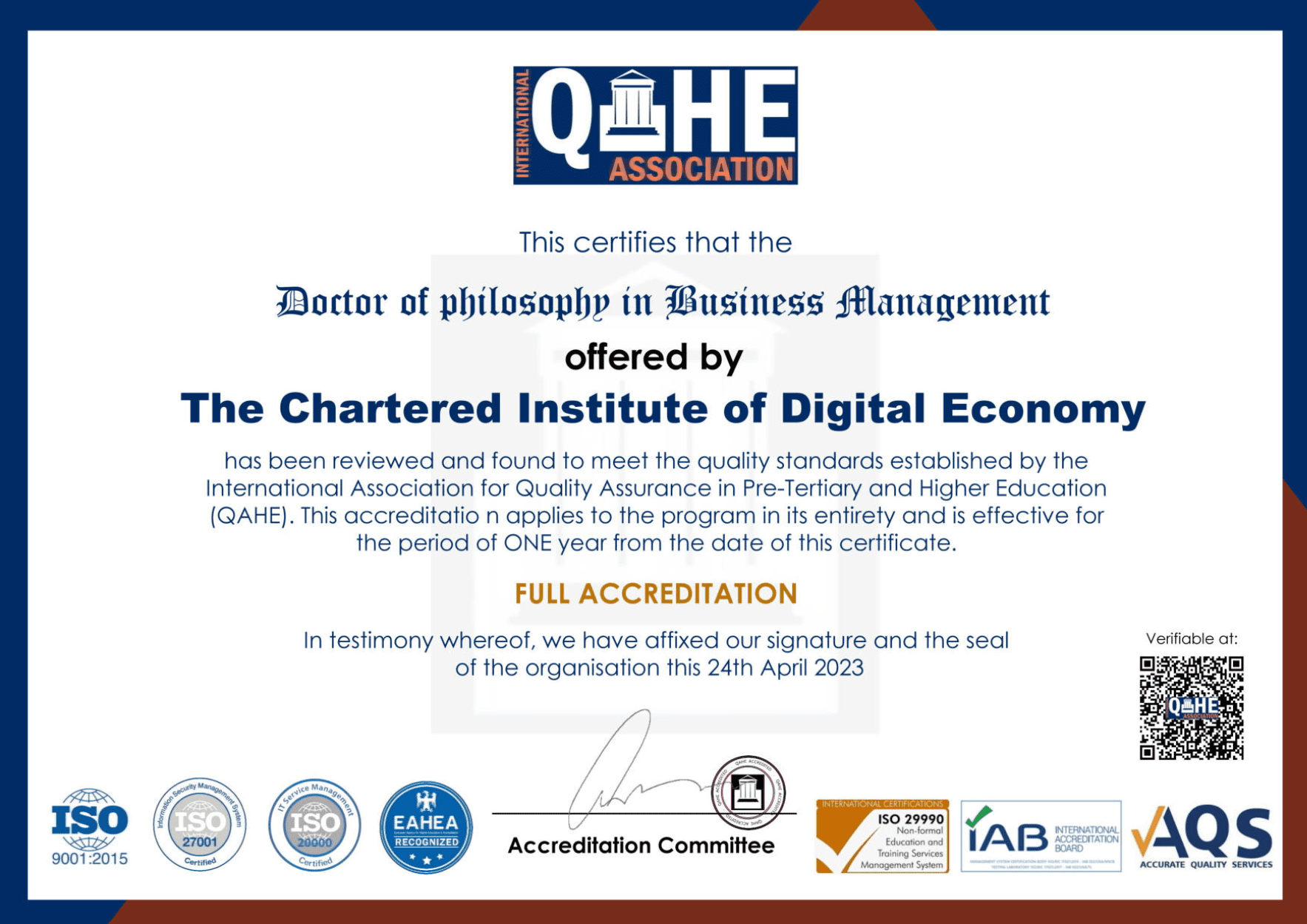 24/04/2023
We are pleased to announce that The Chartered Institute of Digital Economy had attained the accreditation to offer Doctor of Philosophy (PhD) in Business Management by QAHE.
The Chartered Institute of Digital has attained the QAHE programmatic accreditation to offer Doctor of Philosophy (PhD) in Business Management. The Doctor of Philosophy is a program which aims to help candidates to develop their academic professionalism and leadership.  Through this program, candidates will be able to strengthen their research related skills and develop their expertise in a specific field. This program is suitable for all scholars including academic staff, schoolteachers, educators as well as stakeholders in both public and private education sectors. Research area include Finance, Entrepreneurship and Innovation, Consumer Neuroscience, Accounting, Advertising, Business Administration, Educational Practice, Executive Education Human Resources, International Business, Management, Marketing, Public Relations, Social Investment and Philanthropy.